This morning was the perfect time to try one of our newer products (WOW) that I had yet to try. With only 3 hours sleep last night lord knows I needed whatever help I could get for these bags!!! 

These are my results 2 minutes after applying the WOW.! I am happy with the results my bags aren't as puffy and dark, definitely less noticeable. Can't wait to see how they hold up through out the day (no filters & no make up).
**EDIT** My results lasted all day! Super happy with the results of this product. It will become a permanent part of my regime.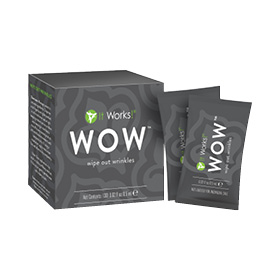 $ 46.00
LOYAL CUSTOMER PRICE
RETAIL PRICE: $ 77.00
WOW™
Wipe Out Wrinkles
Pack of 30 Sachets
It Works! WOW™ wipes out your wrinkles! In 45 seconds you will start to feel it working, and in 45 more seconds all you will be able to say is WOW!
Instantly and temporarily reducing the appearance of fine lines and wrinkles, this functional formula doesn't stop there. The It Works! WOW Proprietary Complex™ with its unique delivery system, dives deep into the skin's surface to reduce the appearance of fine lines and wrinkles. Active peptides, proteins, and chamomile extract, synergistically work together to rejuvenate and revitalize skin. Giving you ultimate instant results and long-term benefits with continued use!*
#EYEDARE you not to say WOW when you see your results!
Instantly reduces appearance of fine lines, wrinkles, and creases
Active peptides and proteins enhance your appearance for firmer, younger-looking skin
Rehydrates skin giving a smooth plumped appearance
Reduces appearance of under eye puffiness for a brighter looking you
Pair with Lip & Eye Cream for the ultimate eye raising results!